Company Profile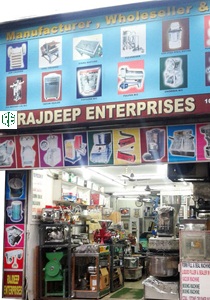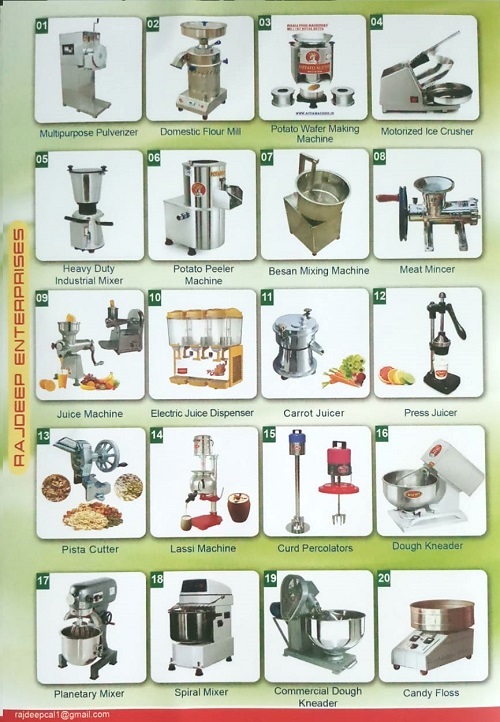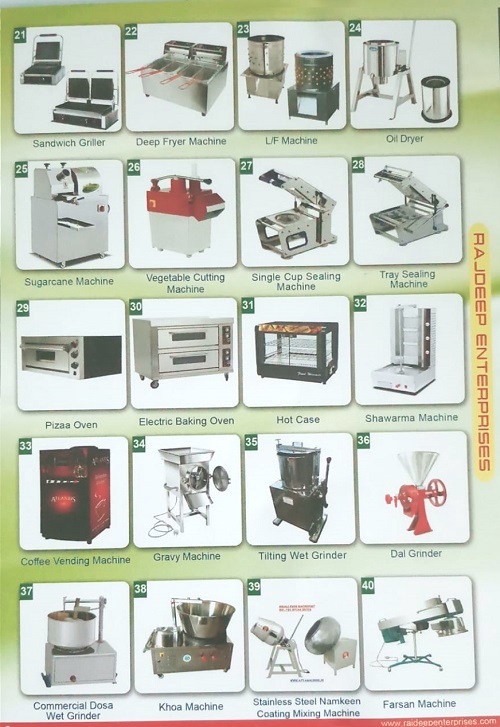 We at Rajdeep Enterprises have a large and sophisticated infrastructure unit that enables us to manufacture and supply best quality products i.e. packaging machines, packaging machineries, crushers, packing machines, food processing machines, kitchen equipments, shrink tunnel machines, tray sealer machines, conveyors, dhoopkathi making machines etc. for our esteemed clients. The professionals at our unit strive hard to meet organizational goal of maximum client satisfaction. We make sure that our products are delivered within the stipulated time period to our esteemed clients. Adhering to high business ethics and transparency, we have Showroombeen able to carve a niche in the market spread across the nation. Our credibility is apparent from the wide list of clients such as Britannia Industries Ltd., Priya Foods Ltd., Haldirams Foods Pvt. Ltd., Nestle India Limited and Parle Products Limited and many more.
We are guided by our mentors, Shree Ratan Mohta & Raj Gopal Mohta who are having an extensive experience of over 25 years in this industry. With their wide vision and extensive experience has enabled us to carve a niche for ourselves in the domestic market. Annual Turnover of our companyis Rs. 2 Crores Approx. We have 10 staffs and 15 workers in our company. Our working hour is 10am to 7pm. Untiring efforts of our team have helped the organization to gain a distinguished position in the market.
Leveraging to our 25 years of experience in Packaging Machines, Material Handling, Hotel Supply, Canteen Supply and Food Processing Industries, we are able to customize high precision range of these machines and machineries which is at par to the International Level. Packaging Systems include Automatic Form Fill Seal Machines, Manual Sealing i.e Paddle Sealer, Shrink Tunnel Machine and every other possible machines in the Packaging Industry. Industrial Material Handling systems include Vibrating Screens, Jaw Crushers, Rollers, Belt Conveyors, Slat Conveyors etc. Lastly, our Food-Processing Industry includes Mixing Machines, Juicers , Grinders, Gravy, Coffee Vending Machines, Dough Kneaders, Pulvelizers etc.
Clientele:
Ganesh Food Products Pvt. Ltd.
Bhikaram Chandmal
Priya Foods Ltd.
Laxmi Tea Co. Ltd.
Dalmia Tea Plantation & Industries Ltd.
Unitech Paper Industries Ltd.
SRMB Steel
MAZBAT Tea States Ltd.
Grihasti Foods & Spices
Kiran Flour Mill
CEE DEE METALLOYS (P) LTD.
Mettalizers & corrosions controllers Pvt. Ltd.
Assessment
Rajdeep Enterprises uses surveys, interviews, and observation to conduct a comprehensive service audit.
Planning
We identify your requirements, needs and processes to take your production to the next level.
Implement
Once we have executive buy-in, we oversee the implementation process from start to finish.
Efficiencies
Rajdeep Enterprisesmonitors key performance Indicators at 3-week Intervals, adjusting strategies as needed.